Aviation ETS Database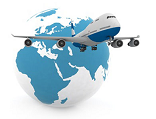 1,300 airline companies from 100 countries
The aviation sector has entered the EU emissions trading scheme since 1 January 2012.
The Aviation ETS Database includes:
List of the 5,500 aircraft operators to be originally included into the trading scheme
List of the 1,300 aircraft operators currently included into the trading scheme
List of the 30 EU administering States with corresponding aircraft operators
List of the 100 states from all the world with corresponding originated aircraft operators
Carbon allowance (EUAA) freely allocated to airline companies
CO2 emissions of airlines
CERs and ERUs used for compliance by airlines
Contact details of aircraft operators (address, telephone, email)
In 2012, airline companies received 85% of yearly emission allowance issuance free of charge and the rest 15% were sold on public auctions. European Commission allows aviation companies to submit compliance emission allowances also in form of EUA emission allowances or up to 15% in form of CER or ERU emission allowances.
ETS Aviation Company Rankings
Carbon Market Data publishes every year the ETS Aviation Company Rankings .
The first ETS Aviation Company Rankings was published in 2013 and includes data for the year 2012:
ETS Aviation Company Rankings 2012 (Download the full press release)
---